Apple Dumplings
Last updated: Sunday November 15, 2020
---
SYRUP
Combine and bring to a boil:
1          1/2       cups                 sugar
1          1/2       cups                 water
-           1/4       teaspoon          cinnamon
-           1/4       teaspoon          nutmeg
6-10     -           drops               red food coloring
Remove from heat and add:
3          -           tablespoons     butter
DOUGH
Sift together:
1          -           teaspoon          salt
2          -           cups                 flour
2          -           teaspoons        baking powder
Cut in and mix until crumbly:
-           2/3       cups                butter
Add and mix until moistened:
-           1/2       cup                  milk
FILLING
Peel, core, but leave whole:
6          -           -                       medium whole apples
A) On lightly floured surface, roll out dough to between 1/8 and 1/4 inch thick sheets.
B) Cut into a 18" X 12" rectangle.
C) From large rectangle, cut with a pastry cutter (or knife) into 6" x 6" squares.
D) Place whole apple in square. Sprinkle apple generously with sugar, cinnamon, and nutmeg. Add a 1/2 teaspoon of butter into apple cavity. Wrap apple and pinch dough together. Moisten edges to seal.
E) Place 1" apart in ungreased 12" X 8" X 2" baking pan.
F) Pour syrup over dumplings. Sprinkle with cinnamon sugar and bake until done.
G) Top with whipped cream and a Maraschino cherry (if desired).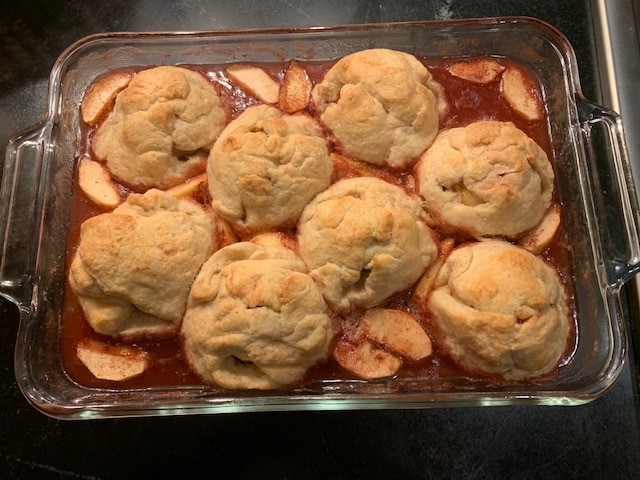 Background
Nancy first learned how to make these in Home Economics in Garden City, MN. Laura, Heather, Laura and the grandchildren all look forward to these each fall. Theo recommends using a good cooking apple like a Haralson, Honeycrisp, or other firm apple. Saucing apples like Macintosh do not hold their shape well.
                                                                                                                                                                                               
Temperature:  375º
Time:              35 Minutes
Yield:             6 Apple Dumplings
Nancy and Theo: This has become a tradition for Theo's birthday. Nancy makes these instead of birthday cake.